An overview of MOST STICs (credits: MOST New Southbound S&T Cooperation Website)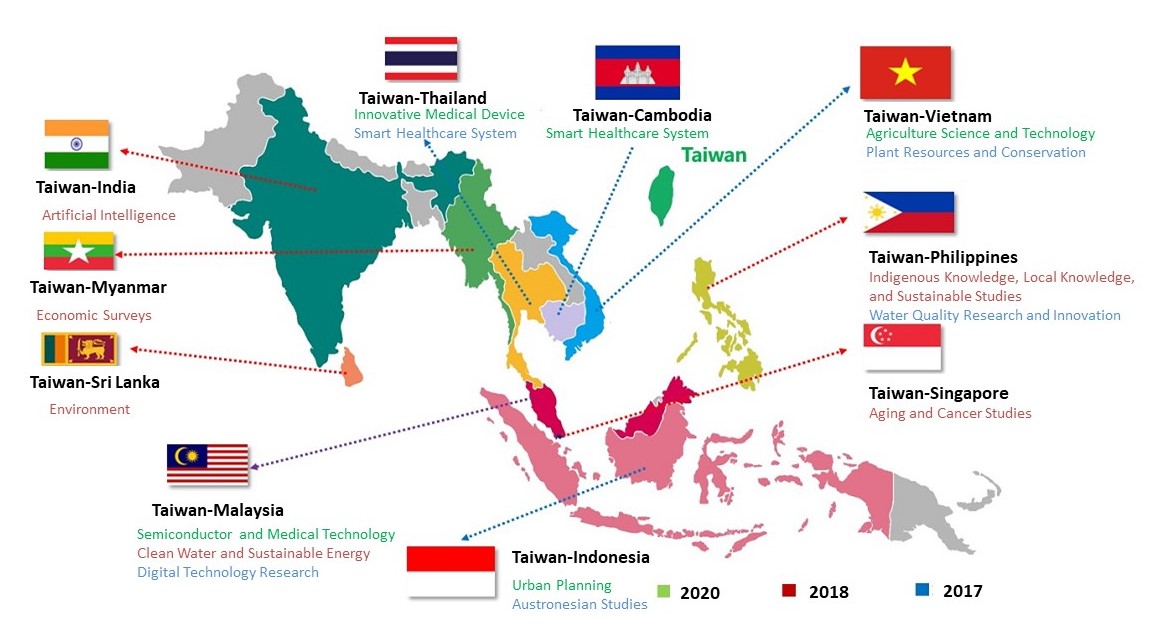 An overview of MOST STICs (credits: MOST New Southbound S&T Cooperation Website)
Note: Currently there are 18 STICs in 10 countries, 6 of which will complete their mandate period by 30th September, 2020. From October 2020 onwards, there will be 12 STICs in 10 countries.
In recent years, Taiwan's government has adopted the "New Southbound Policy (NSP)" to deepen the connection with Southeast Asian countries through collaborating in science and technology, economy, and culture. To align with the government's policy, the Ministry of Science and Technology (MOST) began an initiative to establish "Science and Technology Innovation Centers (STIC)" in Southeast Asia to extend the international collaboration and access top-notch R&D techniques and talents. In the post-pandemic era, Taiwan will make the best of the country's R&D "soft power" to elevate the connection with Southeast Asia through its "warm power" in science and technology diplomacy.
ASEAN and Taiwan
Association of Southeast Asian Nations (ASEAN) was established in 1967 by Singapore, Malaysia, Thailand, the Philippines, and Indonesia. It then grew to an association of ten countries after Brunei, Vietnam, Laos, Myanmar, and Cambodia joined. These ten countries have over 4.46 million km2 of land and more than 600 million populations, which makes ASEAN an area with a wide variety of religions, politics, languages, and cultures. In fact, ASEAN's GDP in 2018 has reached three trillion US dollars and has become a key part of the world economy with its potential market strength.
Being a close neighbor with Southeast Asia, the Taiwanese government has been strengthening regional collaboration through promoting economy, culture, tourism, and investment between the two sides. The goal of Taiwan's NSP is to promote economic and trade ties with the Indo-Pacific region and deepen relations with partner countries by strengthening not just the economic ties, but also science and technology, as well as cultural connections.
Under the NSP, the government has announced "5 Flagship programs and 3 Prospective areas" as the main collaboration focuses. The "5 Flagship programs" include industrial talent development, medical and public health cooperation and the development of the industrial chains, industrial innovation and cooperation, regional agricultural development, and the Yushan Forum. As for the "3 Prospective areas", the government aims to enhance cross-border e-commerce, tourism, and infrastructure connection through "economic and trade collaborations", "talent exchanges", "resources sharing", and "regional connectivity".
MOST's New Southbound Strategy-Science and Technology Innovation Centre
As the New Southbound Policy being a key initiative of Tsai's mandate, different ministries have established their own strategies and working plans to strengthen the connection with Southeast Asian countries. MOST focuses on international research collaborations and resource sharing on science and technology, especially in medical science, semiconductor, ICT industry, and social sciences research. The main strategy of MOST's NSP includes subsidizing international cooperative research, promoting industry-academia collaboration, and encouraging talent exchange and cultivation.
MOST has been funding academic institutes in Taiwan to conduct collaborative research projects with the focus countries of the NSP and establish overseas Science and Technology Innovation Centers (STICs) in these countries. To date, 12 overseas STICs have been established under government subsidy across 10 countries, of which 10 STICs are in seven Southeast Asia and two STICs in South Asia. The research field of STICs ranges across AI technology, medicine, environment, and social sciences. Meanwhile, MOST has cultivated more than 170 young talents, recruited 32 research talents, and held 88 bilateral conferences under the STICs. This demonstrates that the scope of the New Southbound Policy has significantly broadened to areas such as Science and Technology, not limited to just economic exchanges.
MOST has announced the 10-year science and technology vision in 2020, which is "innovation, inclusiveness, and sustainability." MOST will continue to increase the promotion of industry innovation and global communication through bilateral collaboration through trying to better understand the need of the target countries and using Taiwan's relative advantage to consolidate NSP partnership in scientific research.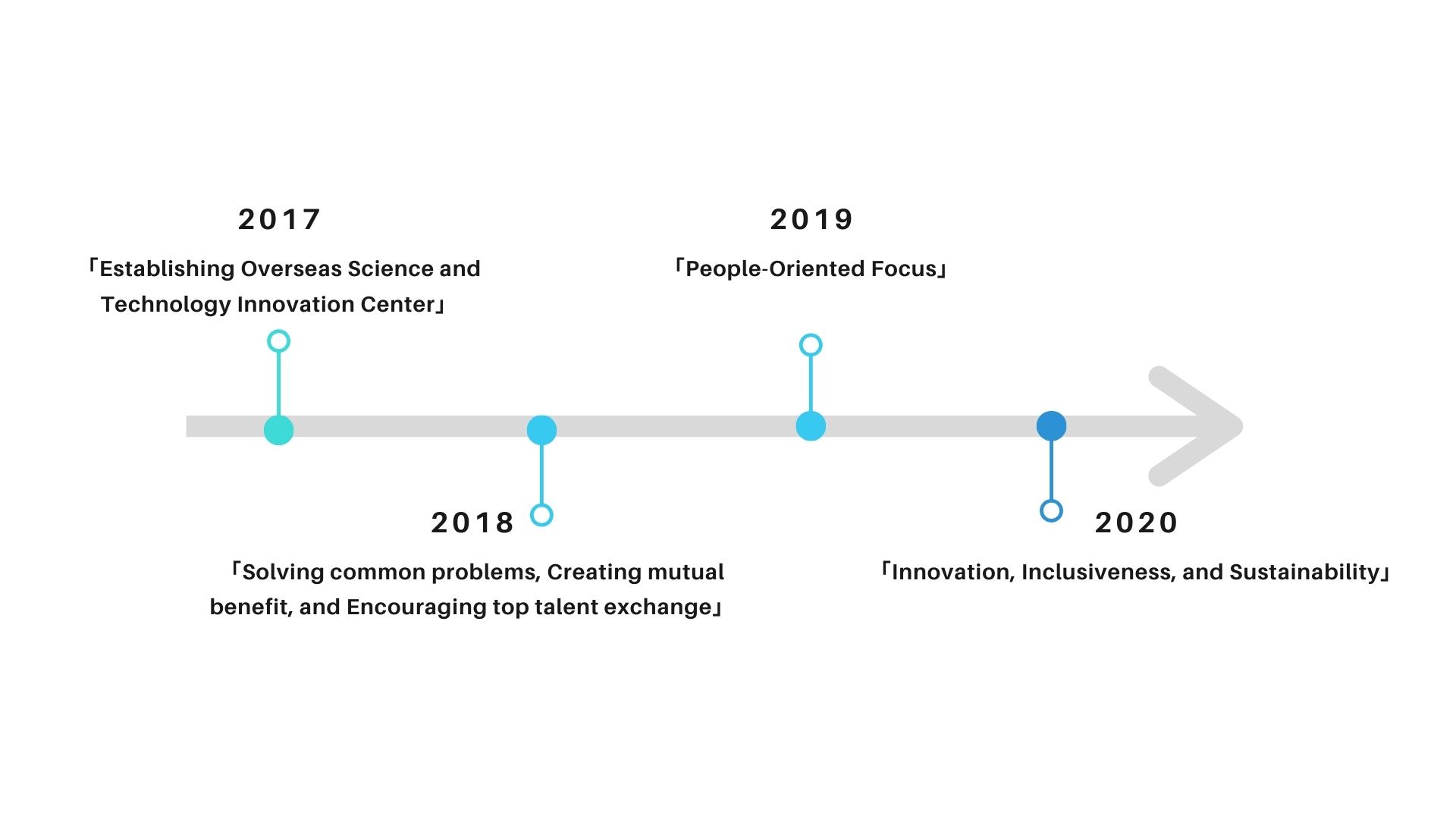 Figure 1. MOST NSP strategies in progress (sources: MOST New Southbound S&T Cooperation Website)
Science and Technology "Warm Power" in the Post-Pandemic Era
With Taiwan's strong R&D capability and the active effort to engage in collaboration with local experts in SEA, MOST's overseas STICs have shown extraordinary outcomes. Take "Taiwan-Philippines Joint Water Quality Research and Innovation Center" as an example, the research team has coinvestigated local water quality and established database for water professionals in Philippines. Under this research center, a solid international academic and industry collaboration between Taiwan and Philippine has been built. Apart from the most common bilateral cooperation, Taiwan also actively seeks to establish multilateral cooperation in the region, such as "Vietnam-Taiwan Joint Plant Conservation Research Center" which conducts field investigation in Vietnam and Laos, is the best example for cross-border regional cooperation within Southeast Asia. Noticeably, the research team has found a new species of fern during the field investigation in Vietnam Bidoup Nui Ba National Park.
The beginning of 2020 saw a change to the role of Taiwan's STICs due to the COVID-19 pandemic, a transition that's more people-centered. In the post-pandemic era, the STICs has a bigger role to play in international development and cooperation in public health and medical technology. For example, the " Taiwan-Thailand Medical Technology, Science and Humanities Development Collaborating Center" worked with Taiwanese companies in Thailand and Vietnam to source medical supplies from Taiwan, and delivered them to Southeast Asian countries to fight the epidemic.
During the pandemic, MOST New Southbound S&T Cooperation Office held the "Taiwan Can Help!" online conference on technology exchange, medical and epidemic prevention cooperation for Taiwan's scholars and medical staffs to share their epidemic prevention experiences with Southeast Asian countries. Meanwhile, medical teams from both sides also took the opportunity to exchange their experiences and explore future collaboration opportunities on S&T and medical research after COVID-19.
In the future, Taiwan will continue to utilize its scientific research capacity in international collaborations on the principle of "addressing common challenges, creating mutual interests, and facilitating talent exchanges". Taiwan will continue to create a mutually beneficial partnership with the ASEAN and South Asian countries, and strive to be a genuine and accountable partner.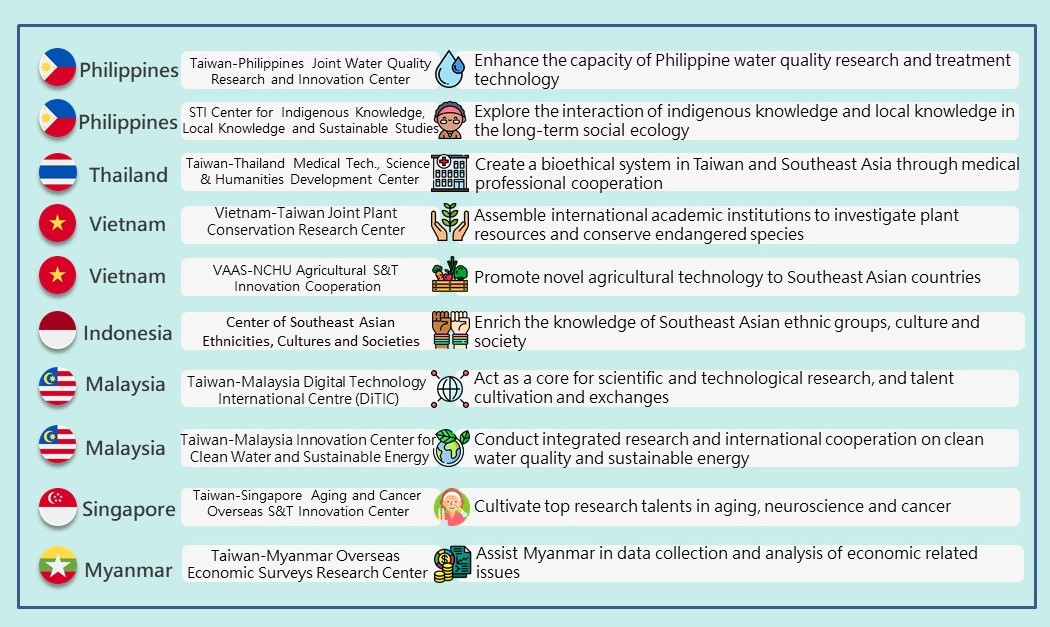 Table 1. STICs in Southeast Asian Countries (Sources: MOST New Southbound S&T Cooperation Website)
RELATED
STAY CONNECTED. SUBSCRIBE TO OUR NEWSLETTER.
Add your information below to receive daily updates.