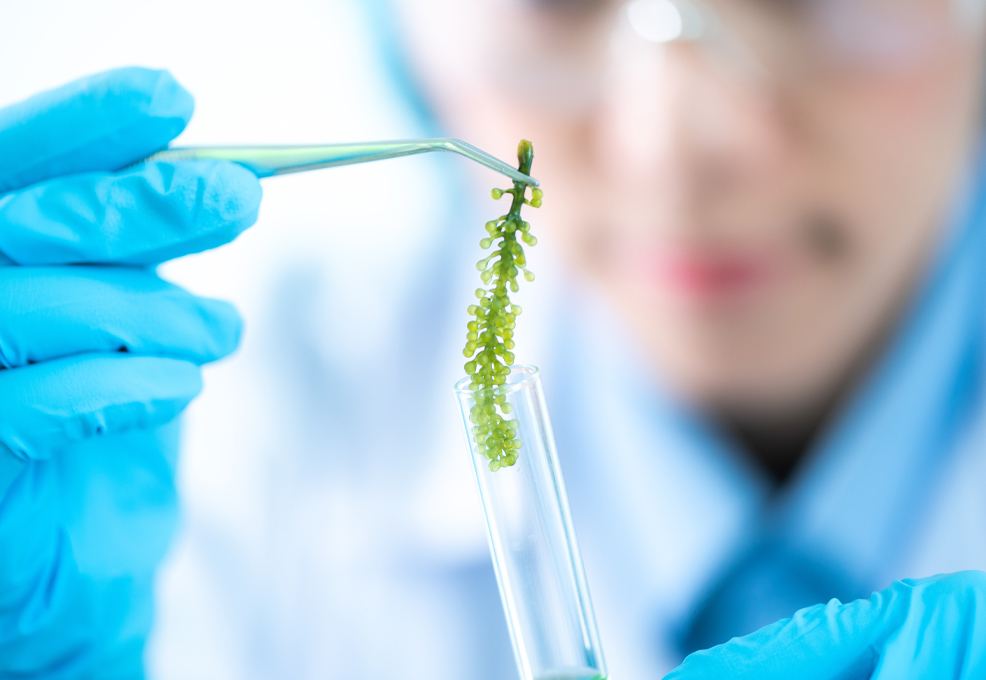 Author(s)

Jo-Shu Chang

Biography

Dr. Jo-Shu Chang is currently a Chair Professor of National Cheng Kung University (NCKU), Honorary Chair Professor of Tunghai University (THU), and Guest Professor of Kobe University, Japan. He also serves as Dean of the College of Engineering at THU. Professor Chang received his Ph.D. degree from University of California, Irvine in 1993. He has published over 480 journal papers with total citations of over 21,000, and he has an h-index of 75. He was also selected as a Highly Cited Researcher by the Web of Science Group in 2019 and has received numerous academic awards, including the Outstanding Research Award from Taiwan's MOST which he has received three times, and he is a Fellow of the American Institute of Medical and Biological Engineering (AIMBE)

Academy/University/Organization

National Cheng Kung University

TAGS

Share this article

You are free to share this article under the Attribution 4.0 International license
In light of the increasing demands for greenhouse gas reduction, Professor Jo-Shu Chang has devoted himself to developing microalgae-based technologies for CO2 reduction, biofuels production and biorefinery. The microalgae's photobiosynthesis function is the most natural and sustainable method of CO2 reduction, and the resulting microalgal biomass could be used as the third-generation feedstock for the production of biofuels or other high-value products. Professor Chang has established a world-leading microalgae biorefinery team in collaboration with China Steel Corporation, CPC-Taiwan, ITRI, Greenyn Biotech, Central Farm, and Nanotech Co., with the aim of developing flue-gas CO2 reduction and re-utilization, microalgal biofuels, microalgal pigments, DHA/EPA, and aquaculture feeds. His team also successfully practices a circular economy based on swine wastewater treatment. Professor Chang's team has accomplished outstanding academic achievement and industrial collaboration. His ultimate goal is to build up a commercially viable circular economy model and ocean farming technology to mitigate CO2 emissions and reduce industrial wastes by using microalgae. He is also attempting to utilize marine resources (mainly algae) to produce fuels, food, and bio-based chemicals to create a clean and sustainable environment for Taiwan.
---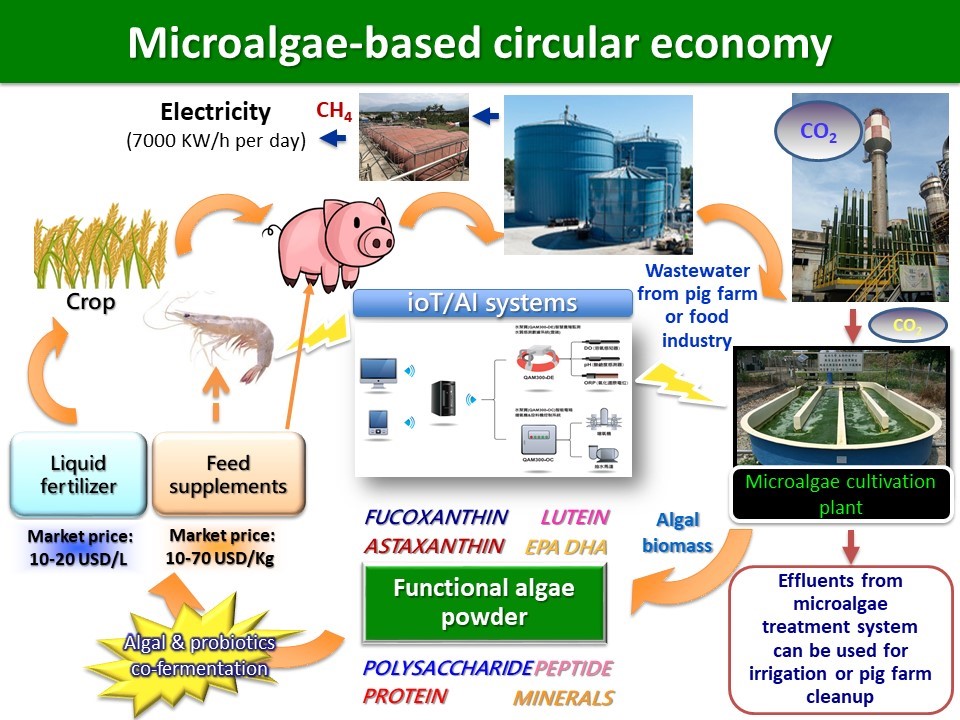 Algae were present on earth earlier than Trilobites and dinosaurs and are able to carry out photosynthesis very efficiently, thereby playing a major role in the Earth's carbon cycle. Since they are rich in valuable functional components, such as carbohydrates, proteins, lipids, pigments, and so forth, algae have been considered a potential renewable feedstock for biofuel production and biorefineries. The research, development and patents related to algae have been increasing dramatically since 2008.
Professor Jo-Shu Chang's team has isolated over 300 microalgal strains (e.g., Chlorella sorokinana, Scenedesmus obliquus, Chlorella vulgaris, Spirulina sp., Nannochloropsis sp., etc.) in the Taiwan area, some of which possess functional components for potential commercial applications. In particular, we are especially interested in the microalgal strains that could uptake CO2 at a fast rate with the accumulation of lipids, carbohydrates, and pigments. These microalgae could be utilized for the production of biofuels (e.g., biodiesel, bioethanol, biohydrogen) and nutrient supplements for human health food or for animal/aquaculture feed. Our microalgal lutein production technology has recently been transferred to a domestic Biotech company for commercialization.
Professor Chang's team has also collaborated with China Steel Co. (CSC) and CPC-Taiwan on the development of microalgae-based CO2 reduction and utilization technology. We have established Taiwan's first fully-automatic microalgal flue-gas carbon fixation plant in the CSC factory. This microalgae-based flue-gas treatment plant has been successfully operated for over two years with the CO2 removal efficiency of more than 60% and the Sox and NOx removal efficiency of 70-80%. This technology has already been transferred to CSC. We also established a 300-ton scale microalgae cultivation plant on NCKU's An-Nan Campus, which is one of Asia's largest and most complete microalgal biorefinery demonstration plants. Currently, we are working with Nanoplus Tech Co. to develop flue-gas upgrading and high-value utilization technology with a 10-million NTD technical transfer project.
Recently, Professor Chang's team used flue-gas and wastewater to cultivate microalgae for the simultaneous removal of CO2 and pollutants from flue gas and wastewater. The obtained microalgal biomass with a high content of functional components can be further utilized to produce feed supplements or fertilizers. The biomass residues containing high heat value could be converted to charcoal as a solid fuel or to biochar with multiple applications via the torrefaction process. We have also collaborated with a large-scale pig farm to construct two-stage anaerobic digesters (working volume is 2000 m3) along with a 2000 m3 microalgal cultivation plant. An innovative circular economy model has been developed based on the swine wastewater treatment process. In this model, the swine wastewater is first anaerobically digested to produce methane for electricity generation. The effluent of the anaerobic digester is then introduced to microalgae cultivation ponds to grow microalgae for further COD (7000 mg/L reduced to 150 mg/L) and nutrients removal. Finally, the microalgal biomass obtained from wastewater treatment is harvested to produce functional feed supplements after co-fermentation with probiotics. The treated water meets the national discharge standard and could be used to clean up the pig farm.
The latest focus of Professor Chang's team has been the development of antibiotic-free, high-nutrition and high-efficiency shrimp cultivation technology, in which microalgae play a pivotal role. Specific microalgae species combined with appropriate types of probiotics were used as feed supplements in a different stage of shrimp growth to enhance its survival rate and to produce shrimp with high efficiency and high content of functional components (such as antioxidants, pigments, or DHA/EPA) without the addition of any antibiotics or drugs. This project has received investment from angel funds and other key investors. We have also worked in collaboration with Japan's OPBIO Factory Co., Ltd. and Malaysian partners to promote the microalgae-aid aquaculture business to the international stage to enhance our international impacts and competitiveness.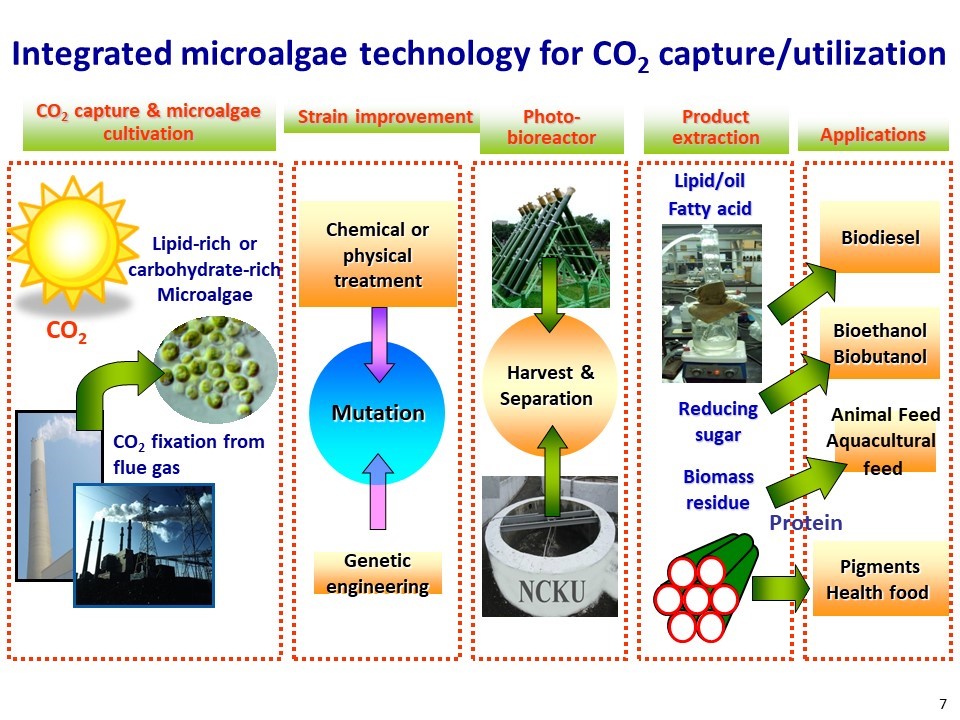 RELATED
STAY CONNECTED. SUBSCRIBE TO OUR NEWSLETTER.
Add your information below to receive daily updates.