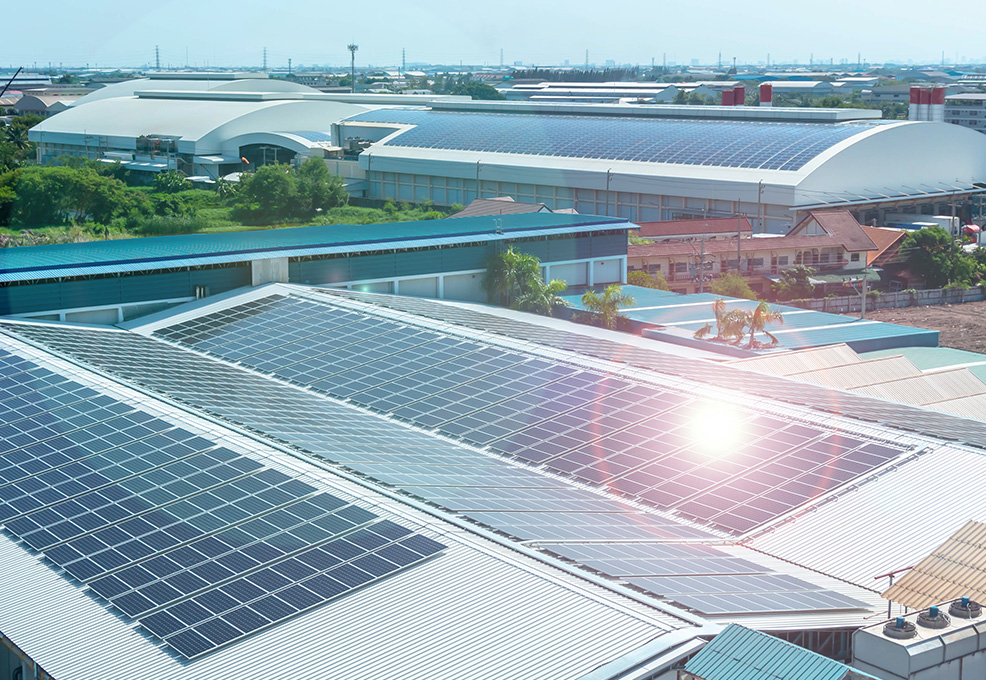 Author(s)

Bing-Chwen Yang & Fu-Ming Lin

Biography

Professor Yang joined GEL, ITRI and has been devoted to research on energy technology and policy since he got his Ph.D in the USA. Currently, he is a professor in the College of Photonics of National Yang Ming Chiao Tung University.

Division Director Lin has been devoted to the R&D and promotion of photovoltaics (PV) for more than 15 years. He leads the most complete solar photovoltaic research team in Taiwan to help achieve the government's goal of PV promotion.

Academy/University/Organization

National Yang Ming Chiao Tung University & Industrial Technology Research Institute

Source

Innovative Techs to Cut Carbon Emissions, ITRI Today, 105, 2021
https://itritoday.itri.org/105/content/en/unit_02-2.html

TAGS

Share this article

You are free to share this article under the Attribution 4.0 International license
Efficiency improvement has always been the focus of solar photovoltaic research and development. Technology innovation and industrialization are the key to solar photovoltaic sustainable development in Taiwan. The research team used a new mechanism, the "selective tunnel effect," to greatly reduce the recombination of electrons and holes generated by illumination. New structure and process development has improved the conversion efficiency of solar cells. The research team is based on the Green Energy and Environment Research Laboratories (GEL) of the Industrial Technology Research Institute (ITRI), in cooperation with a couple of universities to jointly invest in the development of innovative technologies and industrial promotion. The team has now completed the technology development and has combined with the mass production of Motech Industries Inc. to launch a new generation of TOPCon (Tunnel Oxide Passivated Contact) solar cells. The new module has actually been installed at the Yunlin site with a capacity of 1.1MW. It was discovered that the power generation increased by more than 10%, and it is bringing more benefits to the owner. It has not only obtained IEC international certification, but also demonstrates the successful outcome for the cooperation of industry, government, academics, and research institutes.
---
Imported energy, mainly oil, natural gas, coal, and nuclear energy, has always played an important role in Taiwan. However, the supply and price of these energy sources are greatly affected by international conditions. Renewable energy can be treated as our own energy resource, which can avoid the above risks. Among all the forms of renewable energy, solar photovoltaics are the most suitable renewable energy for Taiwan due to the abundant sunshine, semiconductor talents, technology, and complete industrial chain in Taiwan. Therefore, the government has provided subsidies for solar photovoltaic power generation systems since 2006, and set the goal of 20GW for solar photovoltaics by 2025 to stimulate the local industry. With this policy, Taiwan has developed a complete photovoltaic industry chain through the efforts of enterprises, and has become an international supplier of high-quality photovoltaic products. However, in recent years, Mainland China and Southeast Asian countries have also actively developed their photovoltaic industries, which has had a great impact on the domestic photovoltaic industry. How to develop differentiated products and maintain a competitive advantage is the direction for the local solar photovoltaic industry to strive for.
In view of this, the government hopes to more actively develop green energy technology and build Taiwan into a green energy research and development center in the Asia-Pacific region. With the joint support of the Ministry of Economic Affairs and the Ministry of Science and Technology, a smart green energy science city was established in Shalun, Tainan. The Bureau of Energy (BOE) entrusts the GEL of ITRI to build a green energy technology demonstration site here. This site combines energy creation, energy storage, energy conservation, and smart system integration to construct multiple test and verification platforms to provide better field verification for the green energy technology industry. The "Industrialization and verification of high-efficiency solar photovoltaics" is one of the important platforms.
As the development of solar photovoltaics is a global trend, countries are actively developing this field. For example, the US Department of Energy (2021/9/8) published a research report indicating that solar energy currently accounts for about 3% of the total electricity in the United States. If actively promoted, the proportion of solar power generation can reach 40% by 2035, indicating that there is still more than 10 times the room for growth. In addition, from the technical point of view, the efficiency of solar cell products is currently about 22%, with an annual increase of about 0.5%. It is estimated that the conversion efficiency will reach more than 30% by 2035, which exceeds the theoretical limit of single junction solar cells. How to make new innovations, develop higher efficiency solar cells, and implement industrialization is an important key to the sustainable development of Taiwan's photovoltaics.
The research team organized by the GEL of ITRI joined by industry, government, and academics has employed an ultra-thin oxide layer and a selective tunneling effect to replace the traditional p-n energy barrier, which more effectively blocks the recombination of electrons and holes generated by illumination, thereby greatly improving the efficiency of solar cells. In order to accelerate industrialization, the ITRI team has also combined with an equipment manufacturer to develop key equipment so that nano-level ultra-thin oxide layers can be produced in large areas with large quantities and at a low cost. At present, the technology for Tunnel Oxide Passivated Contact (TOPCon) solar cells has transferred to Motech for mass production. The TOPCon solar cell has actually been installed at the Yunlin site and connected to the grid for power generation (Figure 2). The capacity of installations has reached 1.1MW (million watts), and the actual test results of this new product in this domestic field show that the power generation increased by more than 10% in the same area due to its high power generation efficiency, good weak light response and low temperature effect, which not only creates new business opportunities for domestic industries, but also contributes to the increase in the proportion of domestic green energy power generation, and slightly eases the land pressure in promoting the construction of solar photovoltaic systems in Taiwan.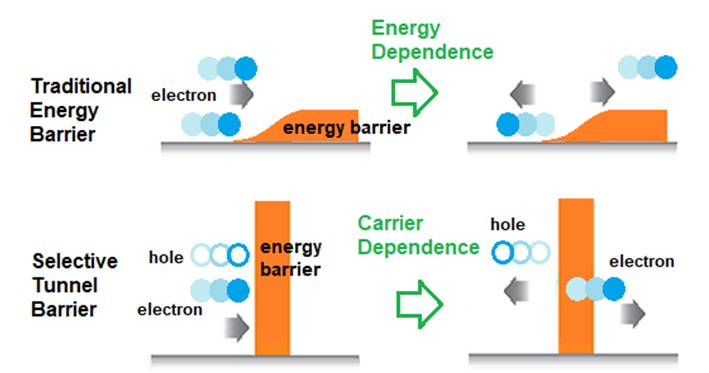 Figure 1. The traditional energy barrier is used to select carriers, which can only be based on the energy level, and the selection ability is limited. The energy barrier with tunneling effect is used for carrier selection, which can achieve a better segmentation effect for electrons and electric hole.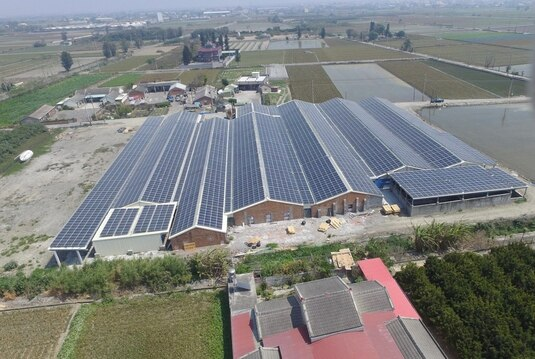 Figure 2. The system with 1.1MW TOPCon modules on the roof of a farm in Yunlin County
(Source:URL 2021/04/21)
RELATED
STAY CONNECTED. SUBSCRIBE TO OUR NEWSLETTER.
Add your information below to receive daily updates.