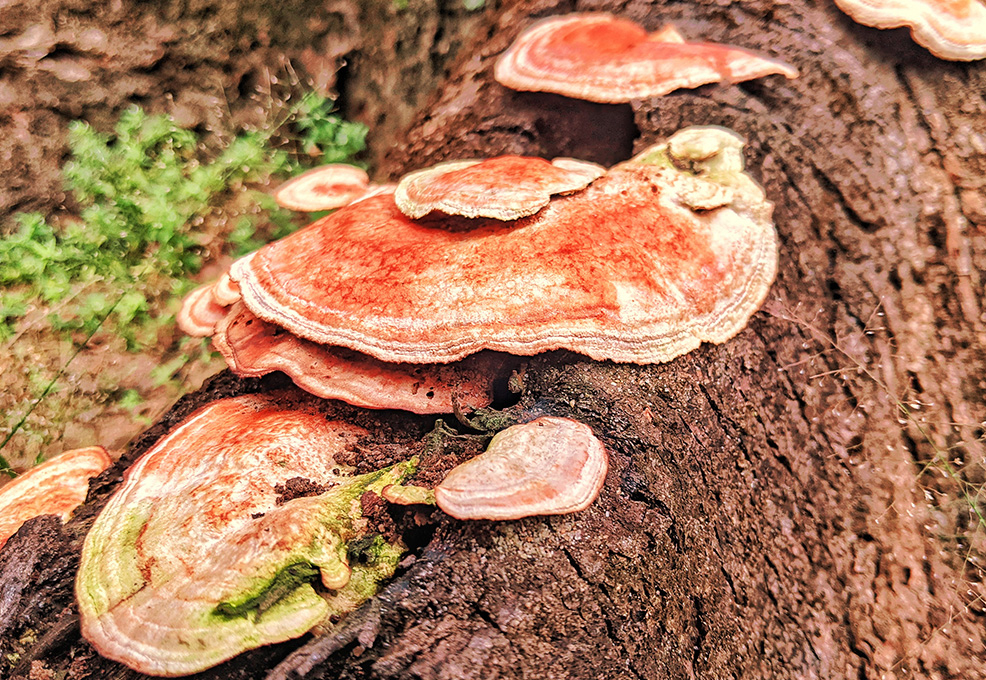 Author(s)

Sheng-Yang Wang

Biography

Dr. Sheng-Yang Wang is a distinguished professor of the Department of Forestry, National Chung-Hsing University. Professor Wang also serves as the Dean of the International College of Innovation and Industry Liaison, NCHU. Dr. Wang is one of the famous phytochemists in Taiwan. To date, he has published over 150 scientific articles. He is an expert in the qualitative and quantitative determination of natural products by chromatography and spectroscopy.

Academy/University/Organization

National Chung-Hsing University

TAGS

Share this article

You are free to share this article under the Attribution 4.0 International license
Taiwanofungus camphoratus (Syn. Antrodia cinnamomea) may be one of the most expensive edible and medicinal fungi in the world, with a current selling price of up to US$25,000/kg. It is conservatively estimated that the annual output value of T. camphoratus in Taiwan is about NT$3 billion. In the past decade or so, a research team composed mainly of Taiwanese scientists, and of course scholars from countries such as China and Japan, have published more than 600 scientific research articles, covering topics such as phylogenetic study, genomics, metabolite studies (composition identification, organic synthesis, and biosynthesis), production regulation, biological activity, and toxicology studies. This shows that T. camphoratus is a subject of research that is highly valued by both academic and industrial circles. With regard to the health care function of T. camphoratus, the most important thing for people is still related to cancer-related issues. The content of this article will be a comprehensive review and commentary of our team's participation in the research and development of metabolism of metabolites study and biological activity.
---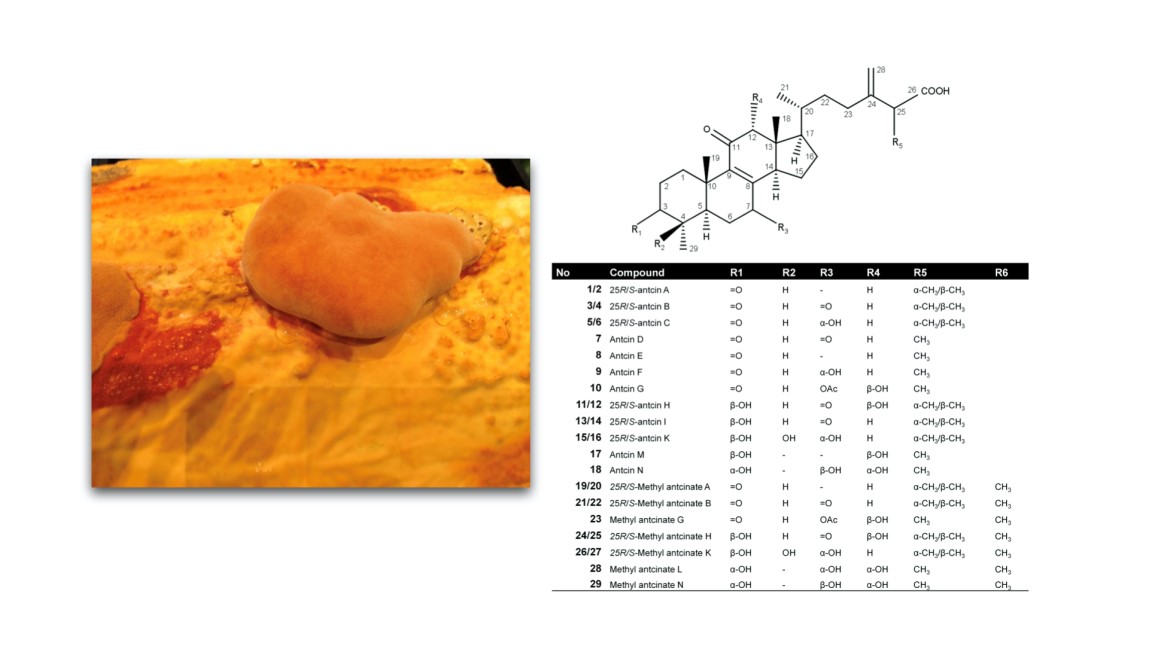 Taiwanofungus camphoratus is an unique medicinal mushroom of Taiwan. It is an endemic and expensive edible mushroom growing restrictedly on the inner cavity of its host species, the Bull Camphor tree, Cinnamomum kanehirae Hayata (Lauraceae). Historically, T. camphoratus was originally consumed by indigenous people of Taiwan as a traditional prescription for the treatment of liver complaints caused by alcohol intoxication. Being a local species, T. camphoratus was also used as a folk medicine for the treatment of various illnesses, including food poisoning, drug intoxication, abdominal pain, hypertension, diarrhea, skin irritation, liver and tumorigenic diseases. In modern Taiwanese culture, T. camphoratus is believed to be a valuable gift from heaven and it is known as the "National Treasure of Taiwan" as well as the "Ruby of the forest." More than 160 compounds have been identified and structurally elucidated from Taiwanofungus camphoratus. Among them 49 compounds are steroids, including 34 ergostanes and 10 lanostanes.
Our series of studies on the anti-inflammation and anti-oxidative activities of T. camphoratus has obtained specific results. We demonstrated that Antrocamphin A, Antroquinonol, 4-Acetylantroquinonol B, and several Antcins possessed the potent anti-inflammation and anti-oxidative activities, especially through Nrf2 transcription factor's regulation. For example, our results revealed that Antroquinonol increased the nuclear translocation of Nrf2 as evidenced by accumulation of Nrf2 protein level in the nucleus. This study also showed that Nrf2 activation was regulated by its upstream kinases including p38 MAPK and JNK/SAPK. Further, an in vivo study with male ICR mice strongly supported the in vitro data that antroquinonol protects liver cells from alcohol-induced liver damage, which was confirmed by reduced levels of ALT, AST, and MDA as well as increased levels of GSH in the bloodstream or hepatic tissues, as shown in Figure 1.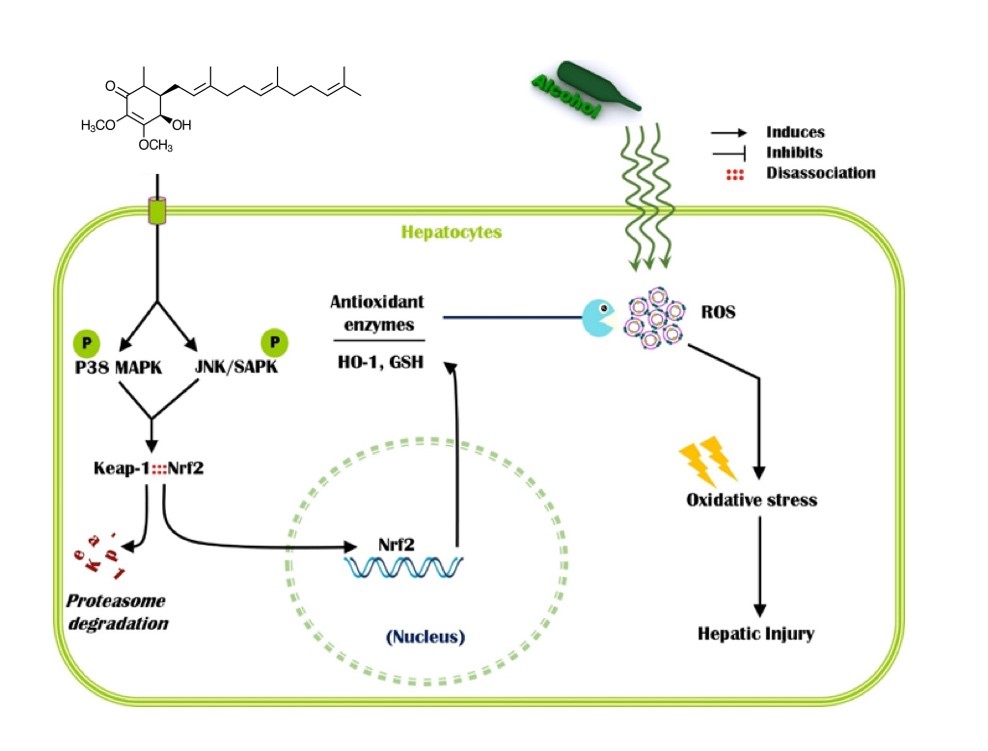 Figure 1. Schematic representation of antroquinonol-induced upregulation of antioxidant genes via Nrf2/ARE signaling pathway, which suppressed alcohol-induced oxidative stress and hepatic injury in human hepatic HepG2 cells.
We also proved that Antcin C protects human hepatic HepG2 cells against 2'-Azobis(2-amidinopropane) dihydrochloride (AAPH)-induced oxidative stress and apoptosi. The hepatoprotective effect of Antcin C was highly comparable with silymarin (200 mg/kg), a well-known hepatoprotective drug. These results strongly suggest that Antcin C could protect liver cells from oxidative stress and cell death via Nrf2/ARE activation. Recently, my research team published two articles in Oncotarget, which studied the anti-aging activity of Antcin C and Antcin M (Senthil Kumar et al., 2016).
Recently our studies have shown that glucocorticoids (GC) treatment induces microRNA-708 in ovarian cancer cells, resulting in impaired tumor cell proliferation and metastasis. However, the regulatory functions of GCs on miR-708 and its downstream target genes in human breast cancer cells (BCCs) are poorly understood. In this study, we found that treatment with either the synthetic GC dexamethasone (DEX) or the natural GC mimic, Antcin A (ATA) significantly increased miR-708 expression by transactivation of glucocorticoid receptor alpha (GRα) in MCF-7 and MDA-MB-231 human BCCs. BCCs xenograft models indicate that treatment with GR agonists significantly reduced tumor growth, weight, and volume. Overall, our data strongly suggest that GR agonists may be applicable as a novel therapeutic intervention in breast cancer treatment.
In addition, we investigated the modulation of epithelial-to-mesenchymal transition (EMT), anti-migration, and anti-invasive potential of ATA against human breast cancer cells in vitro. We found that treatment with ATA significantly blocked EMT processes, as evidenced by upregulation of epithelial markers (E-cadherin and occludin) and downregulation of mesenchymal markers (N-cadherin and vimentin) via suppression of their transcriptional repressor ZEB1. Next, we found that ATA could induce miR-200c, which is a known player of ZEB1 repression. Further in vitro wound healing and trans-well invasion assays support that ATA could inhibit migratory and invasive potentials of breast cancer cells, and the effect was likely associated with induced phenotypic modulation. Taken together, the present study suggests that Antcin-A could be a lead phytoagent for the development of an anti-metastatic drug for breast cancer treatment (Figure 2).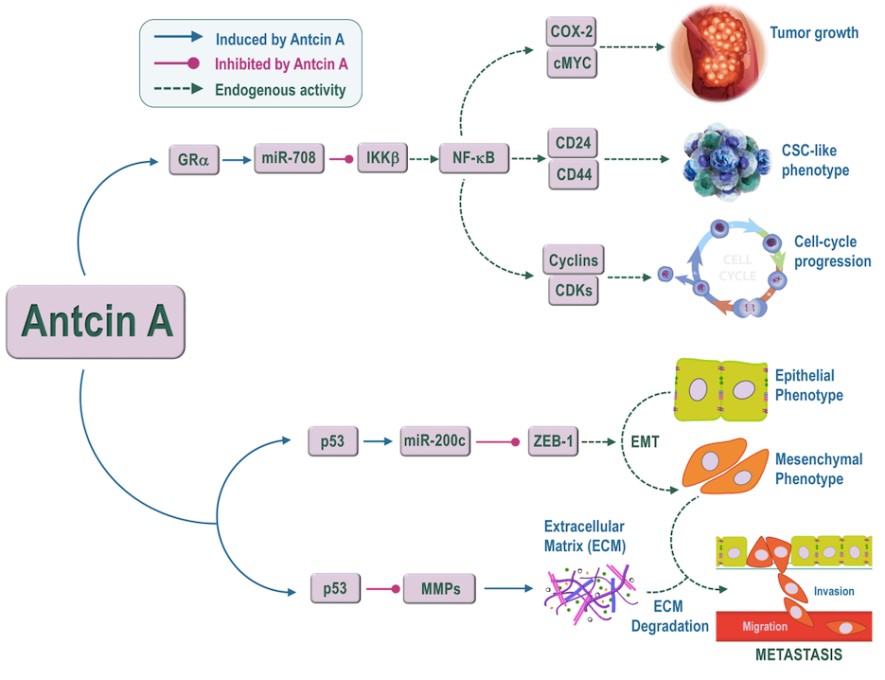 Figure 2. Antcin A activates miR-708 through GRα, which inhibits proliferation and induces cell-cycle arrest in breast cancer cells. Signaling mediated by GR agonists induces miR-708 expression, leading to the suppression of NF-κB, and the downregulation of its target genes COX-2 and cMYC. The present study implies the potential use of GR agonists or their downstream miRNA-708 regulation to inhibit breast cancer tumorigenesis.
RELATED
STAY CONNECTED. SUBSCRIBE TO OUR NEWSLETTER.
Add your information below to receive daily updates.